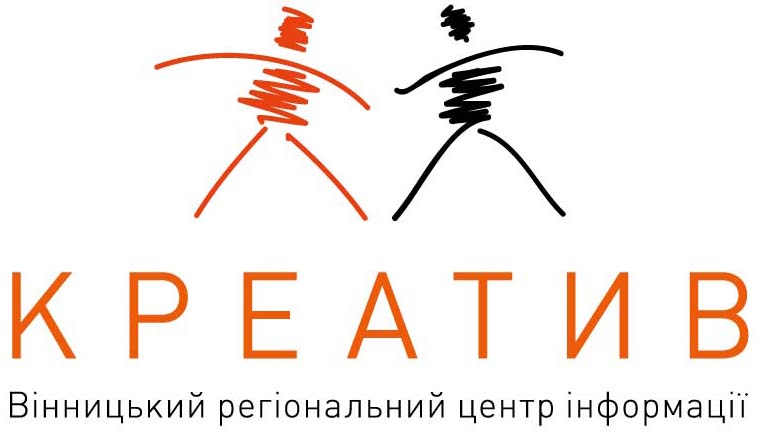 Vinnytsia Regional Center for Information "KREATIV" - non-governmental organisation, founded in 2007.
Mission: to encourage development of civil society
We share European values: supremacy of law, human rights, tolerance, freedom, democracy, equality, human dignity.
Our motto: Let's Get Creative!
Main activities:
development and implementation of local, regional and international programs aimed at development of civil society;
information and educational activities in the field of European integration and implementation of European values in the Ukrainian society;
promotion of culture, spirituality, civil and non-formal education, volunteering;
preservation of cultural heritage, historical and cultural environment;
preservation of the eco environment;
prevention of negative phenomena among youth and promotion of healthy lifestyles;
support of the development of independent mass media (including electronic one).
"KREATIV" has professional experts from various fields of public activity, cooperates fruitfully with NGOs, educational institutions, international organizations and foundations.
Our Partners:
Democracy Reporting International Ukraine
Consulate-General of the Republic of Poland in Vinnytsia
Polish Association Integration Europe-East
Polish Robert Schuman Foundation
Project "Teraz Wroclaw"
Network of the Centers of European Information of Ukraine
Vinnytsia Regional Universal Scientific Library named after K.Timiryazev
People's Theatre-Studio "Seventh Heaven"
Education Department of Vinnytsia City Council
Civic Initiative "Europe without Barriers"
Ukrainian Environmental NGO "MAMA-86"
Vinnytsia Social and Economic Institute of the "Ukraine" University.
Vinnytsia Regional Center for Information "KREATIV" jointly with the Vinnytsia Regional Universal Scientific Library named after K.Timiryazev run the Vinnytsia Centre of European Information (http://vn.ukrcei.org) included in the Network of European Information of Ukraine.

The organization was an information representative of the EU programme "Youth in Action" in Ukraine in 2007-2013 (http://yia.org.ua). "KREATIVE" is an active participant of international youth projects and European Voluntary Service (EVS) within EU Programme Erasmus+.
"KREATIV" is a member of the Network of Pro-European Organizations of Ukraine, Network of Civil Society's Leaders and Ukrainian National Platform of the Civil Society Forum of the Eastern Partnership (group 4 - Contact between People).
Facts about the organization:
10 years of work
more 50 active members
more than 20 regular volunteers
more than 15000 hours of volunteering work
more than 50 completed projects
more than 200 trainings, seminars, presentations, attended by over 2 500 participants
more 20 projects of European Voluntary Service
more than 1000 sessions of language clubs and more than 800 club's members
more 200 participants of 80 international trainings, exchanges, seminars, study tours
10 trainers on different topics.