The partnership agreement and financial agreement for the project "Świętokrzyskie - good neighborhood for Ukraine" were signed by the voivode Zbigniew Koniusz with the Kielce Europe-East Integration Association.
The project leader is the Świętokrzyskie Voivode, while the partner is the Europa-East Integration Association.
The aim of the initiative is to support refugees from Ukraine, legally residing in the Świętokrzyskie Voivodeship, who came to Poland after February 24, 2022 - in connection with the ongoing hostilities.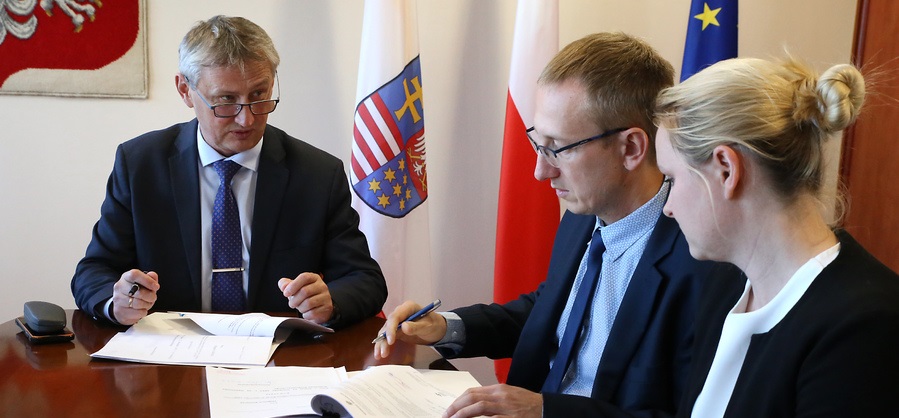 According to the Department of Social Policy and Health of the Świętokrzyskie Voivodship Office, the main activities under the project will be, inter alia, Polish and Ukrainian language courses, training courses, summer camps for children, job exchanges and improving competitiveness on the labor market.
It is worth noting that the implementation of the project is a continuation of the activities for the integration and adaptation of foreigners initiated in 2019 as part of the support from the Asylum, Migration and Integration Fund "Safe Harbor".
The project is also a continuation of the INTEURO Good Neighborhood Map, i.e. the foreigners support program created by the Europe-East Integration Association as part of the FAMI project in 2020-2022.
Today, INTEURO.INFO is a platform of comprehensive information and integration support for foreigners that brings together numerous initiatives and public tasks carried out by the Association and partners such as government and local administration, non-governmental organizations, etc.
Info: ŚUW Kielce

Projekt "Świętokrzyskie - dobre sąsiedztwo dla Ukrainy" współfinansowany z Programu Krajowego Funduszu Azylu, Migracji i Integracji "Bezpieczna przystań"