Hundreds of job offers, free legal, tax and legalization consultations as well as an international conference. All this as part of the "Świętokrzyskie for integration and professional activation of foreigners" project.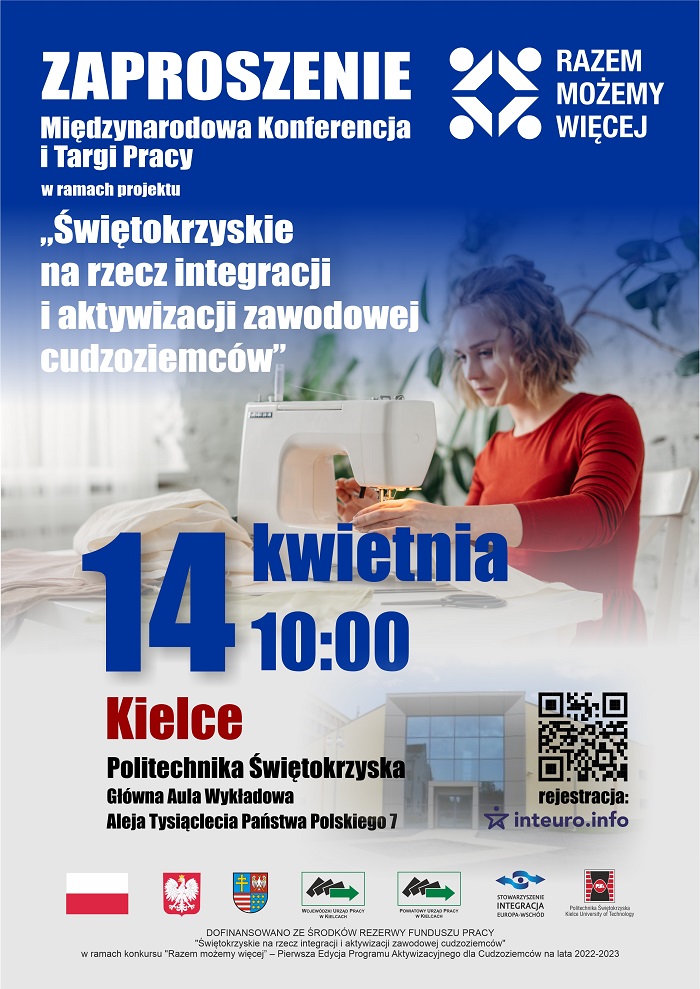 The event is organized by: Voivodship Labor Office in Kielce, Poviat Labor Office in Kielce, Association Integration Europe - East in cooperation with the Świętokrzyska University of Technology.
The task is financed from the Labor Fund as part of the "Together we can do more - the first edition of the activation program for foreigners for 2022–2023" announced by the Minister of Family and Social Policy.
Our initiative is the answer to the current needs and questions of foreigners - especially Ukrainian citizens who came to Poland in large numbers as a result of Russian aggression.
Therefore, during the conference, the topics of the current situation of foreigners on the Świętokrzyskie labor market and the possibilities of activation and adaptation in Polish society will be discussed.
Along with the conference, a work fair with the participation of Świętokrzyskie employers and information and advisory stands for labor market institutions, non -governmental organizations and local administration will be organized.
The final of the conference will be a discussion panel with the participation of Ukrainian women - participants of our project, which will share their experiences on the Polish labor market.
What did we plan to include during the Job and Conference?
We will organize direct talks with employers and present current job offers
How to find a job will be suggested by employees of the Provincial and Poviat Labor Office in Kielce
How to legalize your stay and complete the application for a temporary or permanent residence card - we will invite you to free consultations with information point experts for foreigners
Free legal advice will be provided by experienced legal advisers
Free tax consultancy - we will help to complete and settle PIT in cooperation with experienced employees of accounting offices
Social benefits for families - where and to whom to apply for help will be hosted by employees of the Municipal Family
Support Center in Kielce
Benefits and health contributions - free consultations with employees of the Social Insurance Institution
How and why it is worth investing in Kielce and the Świętokrzyskie Voivodeship will be said by employees of the Kielce Technology Park and the Investor Service Center from Skarżysko - Kamienna
We will tell you what assistance projects are currently implemented in the Świętokrzyskie Voivodeship
We will show good practices by organizing a discussion panel with the participation of Ukrainian women who have found a job in Kielce
We will also welcome a group of over 40 guests - volunteers from the vineyard from the "Podilska Gromada" Foundation, which will visit Kielce on the invitation of the Integration Europe - East Association that day.
How to register for a conference and fair?
Fill in ON-LINE FORM
Do you have questions? Call / write to us:
Information point for foreigners in Kielce, tel. +48573338377, info@inteuro.info
Program of conference and work fair:
I. CONFERENCE
9.30
Registration of participants
10.00
Official Conference Opening - Greetings of Participants
10.15
Analysis of the situation in the labor market of the Świętokrzyskie Voivodeship in the context of the migration crisis as a result of war in Ukraine
- Voivodeship Labor Office in Kielce
- District Labor Office in Kielce
10.45
Principles of employment of foreigners and social benefits
- principles of employment of foreigners
- pensions and benefits belonging to Ukrainian citizens from ZUS
- Rules of income tax to citizens of Ukraine
- Local benefits for Ukrainian citizens on the example of MOPR Kielce
11:15
Own enterprise in Poland - how to start?
- Business registration procedures
- Proposal of Technology Park Kielce for Ukrainian entrepreneurs
- proposal of the investor service center in Skarżysko-Kamienna
11.45
Refugees from Ukraine in the Świętokrzyski Labor Market
- the situation of Ukrainian women in the Świętokrzyski Labor Market
- Analysis and Summary of the Research
- Examples of best experience – presentation
12.25
Discussion and Summary
ІІ. VACANCIES FAIR
10:00 – 13:00
Offers of the employer
Employment Legalization Consultations and Careerne Counseling - Voivodeship Labor Office in Kielce, Distrcit Labor Office in Kielce
Integration, Education and Volunteering for Youth – Association of Integration Europe – East
Law consultations on stay legalization - Information point for foreigners in Kielce
ZUS Benefits - Social Security Institution in Kielce
Tax consultations - tax advisers
Social payments - Municipal Family Support Center in Kielce